Are you ready for your next academic venture in college? If yes, you're probably prepared to slay either the SAT or ACT. Both the SAT and the ACT are equally popular among many college entrance exams. Hence, incoming college students often wonder which among these exams are the best to accomplish.
Without a doubt, the SAT and ACT are the primary basis of evaluation for college readiness among high school students at most colleges and universities in the U.S. In 2019, there were approximately more than 2.2M students who took the SAT. It was around 4% higher from 2018. Despite the global crisis, almost 2.2M test-takers took the SAT in 2020. That said, the population of students taking the SAT is nearly the same as 2019's SAT test-takers. On the contrary, the ACT test-takers in 2019 were almost 1.8M.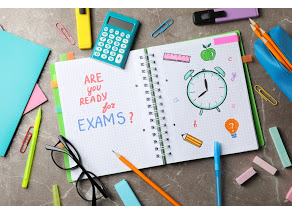 A comprehensive understanding of the difference between SAT and ACT helps determine a suitable answer to the popular question – "Which college entrance exam should I take?". In terms of the scoring system and content, the SAT and the ACT are entirely different. Aside from that, they also differ in the timing and structure of the exam. Despite their differences, both the SAT and the ACT have one common aspect – to evaluate each student's readiness for college.
In this guide, we highlight everything you should know about taking college entrance exams to decide for yourself which among SAT and ACT is the right exam to prepare and pursue.
What Is The SAT?
Formerly known as Scholastic Aptitude Test, the Scholastic Assessment Test (SAT) is a mandatory college entrance exam for many colleges and universities across the U.S. Hence. It is a common requirement for incoming college students for enrollment to any undergraduate programs in many colleges and universities.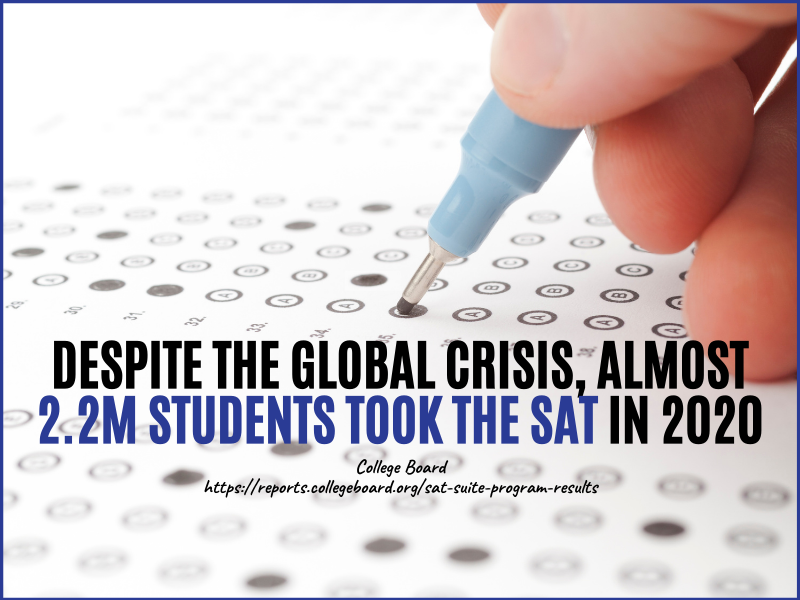 In the 1900s, the College Entrance Examination Board was developed by many Ivy League schools. The College Board's primary objective was to streamline the student's enrollment process; hence, eliminating the need to accomplish different entrance tests for each school they enroll. As a result, the SAT was developed as a form of standardized college entrance examination for the College Board, requiring students to compose essays and jot down their answers.
In early 1990, the SAT was restructured to evaluate mathematical and verbal reasoning abilities through a multiple-choice type of questions. The restructured SAT already includes two distinct parts of the examination. The first part or SAT I is a general exam of mathematical and verbal ability, while SAT II measures the students' specialized subjects.
The Math and Verbal parts of the examination require 55 to 80 minutes for the mathematical part, 65 minutes for the reading portion, and 35 minutes for the language and writing component. The verbal exam consists of three questions, namely critical reading, sentence completion, and analogy.
On the contrary, the mathematical portion evaluates students' proficiency in understanding mathematics, including how well they solve challenging mathematical problems and apply their knowledge to new circumstances.
Each portion of the SAT yields a test score ranging between 200 to 800. Hence, a range of 400 to 1,600 for a combined test score.
Overall, the SAT has a duration of approximately 180 minutes or three hours for completion. However, if you take the optional essay portion of the exam, an hour is added, totaling up to four hours' worth of exam duration.
What Is ACT?
Previously known as the American College Test, the ACT is another type of standardized test that is considered a mandatory requirement for most schools in the United States. It was designed in 1959 to evaluate students' academic aptitude and considered a reliable alternative to the Scholastic Aptitude Test.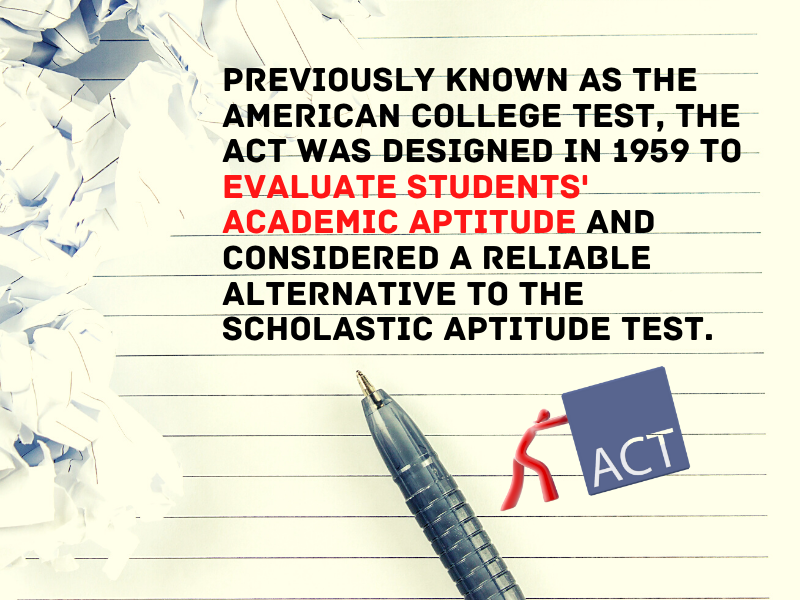 The ACT is a 2-hour 55-minute exam with a multiple-choice type of questions. The test evaluates scientific, reading, mathematical, and English skills. Students also accomplish two questionnaires that highlight their extracurricular activities, grades, courses, and interest.
The exam consists of four primary sections: 40-item scientific reasoning, 40-item reading, 60-item mathematics, and 75-item English parts. A total of 215 questions is included in the ACT, which is 61 questions more than SAT's 154 questions. For completion time, each component requires 35 minutes, 35 minutes, 60 minutes, and 75 minutes, respectively.
Each exam of ACT is marked on a scale ranging between 1 to 36. All four parts are combined into an overall score of 1 to 36. The average score for ACT test-takers is within 17 to 23.
The majority of students take this college entrance exam at the start of their senior years. Should they prefer to take an earlier time, they can take the ACT during their junior year's spring season. They can take the ACT more than once. In such cases, most schools consider the highest score attained.
Difference Between SAT and ACT
Colleges and universities require that their applicants take the ACT or the SAT and submit their test scores to their potential schools. Whether a domestic or an international student, you must choose which exam is suitable. Neither is superior in terms of quality and exam type.
In a nutshell, we highlight the significant difference between SAT and ACT so you can assess which of these is the right exam to invest in.
Fees
One of the common variations of the SAT and ACT is the testing fees. The testing fees include $52 for SAT only and $68 for the SAT with the essay component. Additional costs associated with the exam registration may apply, such as waitlist fee, late registration fee, change fee, and registration by phone. Both types of SAT offer fee waivers for eligible students.
For ACT, the cost of a full ACT with no writing component is $55, while the ACT with a writing exam is $70. If you change testing options, you are required to pay $15. Like SAT, associated fees should be paid for registration-linked circumstances, such as changes in the testing centers and dates, late registrations, and standby exams. ACT Fee Waivers are also given to qualified applicants.
Duration
As described, the ACT has a shorter exam length, with almost three hours without the writing component and three hours and 35 minutes with the writing part. The SAT runs approximately four hours with the essay and three hours without it.
If you want to have a more transparent overview of the exam duration for each component, here are the details:
| | | |
| --- | --- | --- |
| Section | SAT | ACT |
| English | | 45 Minutes |
| Math | | 60 Minutes |
| Math (With Calculator) | 55 Minutes | |
| Math (Without Calculator) | 25 Minutes | |
| Reading | 65 Minutes | 35 Minutes |
| Science | | 35 Minutes |
| Writing & Language | 35 Minutes | |
| Optional Essay | 50 Minutes | |
| Optional Writing | | 40 Minutes |
| Total | 3 Hours to 4 Hours | 2.5 Hours to 3.5 Hours |
Essay Component
Both SAT and ACT offer optional essay writing components. If you take the optional essay of SAT, you are evaluated on your comprehension of specific statements. For ACT's optional writing part, you will be tested on how proficient you are in analyzing and evaluating complex problems.
Scoring System
The ACT has a scoring system ranging from 1 to 36, while the SAT is ranked on a 400 to 1,600 scoring system. For both exams, you will gain scores for every correct response that you provide. Also, you will not be penalized for every incorrect answer on both the SAT and the ACT.
Aid
Whether the SAT or the ACT, you'll have to complete each exam's mathematical component. Although both exams include trigonometry and geometry, SAT additionally covers data analysis. On the contrary, the ACT consists of statistics and probability.
The main variation in each exam's mathematical sections is that the ACT will not allow participants to use a calculator. For SAT, one math section requires a calculator, while the other math section doesn't require such aid.
Structure
As you have seen on the duration table above, the apparent distinction between the SAT and ACT is that the SAT does not have a science section, while the ACT has a 35-minute, 40-item science exam. Although the SAT doesn't have a separate science exam, it still measures a student's scientific aptitude on some parts. Instead of emphasizing scientific knowledge, ACT's science exam focuses on critical thinking skills, measuring each student's analytical capabilities.
Importance of SAT and ACT
After going through each difference and definition, you may be wondering how important it is to take the SAT and the ACT. Although times have changed, and some schools are no longer requiring the SAT and the ACT as part of their admission requirements, both are good investments for your academics. Here are three primary reasons why taking the SAT and ACT is essential:
Supplement Your GPA
If you have lower GPAs during your freshman and sophomore years, it can be challenging to boost your scores during the last two years of high school. Even if you have already improved during your senior years, your GPA isn't everything that potential colleges or universities see!
That said, this is where your SAT and ACT scores can help you. Through better SAT/ACT scores, you have the opportunity to supplement your GPAs in high school. It's one way you can redeem yourself, showcasing your ability to perform well, study hard, and thrive under pressure. Hence, it is also essential that you should prepare and study for SAT/ACT. Never underestimate yourself with the possibility of getting higher SAT/ACT scores.
More Scholarship Opportunities
Aside from the standard applications, your ACT and SAT scores are beneficial, especially when you are applying for scholarships. With higher SAT/ACT scores, you can easily apply for merit-based scholarships offered by your chosen college or university. Other scholarship programs are granted from the local, state, or regional institutions; hence, your ACT/SAT scores, academic achievements, and GPAs directly impact your credibility and eligibility.
In a nutshell, the better your college entrance exam scores are, the more scholarship opportunities you can apply for.
Mandatory Requirement for Most Schools
Most schools in the United States require the submission of SAT or ACT scores. Aside from being a mandatory requirement, schools receive hundreds to thousands of enrollment applications annually. With SAT/ACT scores, each school's admission team can narrow down by shortlisting applicants and deliberate fairly.
As a result, individual SAT and ACT scores are crucial. Achieving higher scores will make you stand out from the pool of applicants. With schools receiving more than 50,000 applications, it is daunting for them to go through every essay, transcripts, and documents. Low test scores are automatically considered a demerit in your application.
SAT or ACT: Which One To Take?
By this time, you are probably aware of the differences between the SAT and the ACT. Choosing the right exam to take entirely depends on your preference and capacity. Hence, there is no dominant choice between these two popular college entrance exams.
Instead, we highlight which of these exams can be beneficial to you, aligning with your strengths and aptitude.
In terms of subject inclusion, the most evident distinction between the SAT and the ACT is the ACT's science component. If you are not passionate about science, you may be better off taking the SAT. However, if you are proficient at scientific data, graphs, and best in science, the ACT can be your excellent option. Subjects alone are not enough factors that help you determine which college entrance exam to take. Hence, there are plenty of other variations.
For instance, the SAT provides you with enough time to go through each question and answer them correctly then the ACT. If you prefer slow, steady, and more time answering questions, the ACT's time limitations may not help get higher composite scores.
Another factor to look into is the use of aid. If you are not confident with your mathematical abilities, you can obtain higher scores with the ACT. With the SAT, you are required to take two mathematical sections. One section requires a calculator, while the other section prohibits the use of a calculator. Even the mathematical sections of the SAT and the ACT are entirely different.
When Is A Good Time To Take The SAT and The ACT?
For SAT, the College Board facilitates the exam on Saturdays of the month. If you cannot take the exam on Saturday for specific reasons, there are available Sunday schedules as alternatives. More exam schedules are offered during the Fall season. Visit the College Board's website for more detailed information regarding exam schedules, registration deadlines, and other important dates.
On the contrary, the ACT is administered six times annually, specifically in February, April, June, September, October, and December.
As mentioned, the best time to take college entrance examinations is towards the late part of your junior year or as you begin your senior years. Doing so will provide you with ample time to prepare to take the exams twice. It's not mandatory; however, it's highly recommended. Based on previous test-takers, 67% of applicants have better test scores during the second take.
Should I Take The SAT and The ACT?
With the current global crisis, many colleges and universities have switched to "test-optional" when it comes to SAT and ACT requirements. With a "test-optional" status, schools do not necessarily require their applicants to submit SAT and ACT scores. That said, you're now wondering whether you should take the SAT or ACT. Here are some guidelines to help you decide whether the SAT or the ACT is worth taking.
What If I Don't Take The SAT or ACT?
If the school you're applying for doesn't require any college entrance exams, chances are you won't have problems with your application. However, without test scores, other aspects of your application should help you stand out. Hence, extracurricular activities, references, achievements and awards, college essays, and GPA should be satisfactory and available whenever possible.
Will I Submit My Test Scores After Taking The SAT or ACT?
Depending on your prospective college or university, the submission of test scores after taking the SAT or ACT isn't mandatory. That said, you should verify with your chosen school regarding test scores submission. Without student's consent, the ACT and the College Board won't release test scores.
Are There Any Categories For Schools Regarding SAT or ACT?
Each school is different in terms of considering SAT and ACT scores as mandatory requirements. As a result, students must double-check with their college or university regarding their approach.
Three categories describe how schools deal with SAT and ACT scores.
Schools with Test-Optional status allows students to decide if they prefer submitting their test scores. If a student submits, colleges and universities will consider SAT or ACT scores as part of the application. However, they may emphasize other supplementary documents more.
Schools with Test Flexible category allows students to submit their SAT or ACT scores, OR an alternative exam instead, such as the AP Test or SAT Subject Test.
Schools with Test Blind category will not accept SAT or ACT scores even if students have submitted them as part of their application.
The safest answer to the common question,i.e., "Should I take the SAT or ACT?" entirely depends on the school's admission requirements and policies. Hence, you should check with their respective admissions team and colleges for up-to-date information. You can also verify from FairTest's website for a comprehensive list of colleges and universities switching to "test-optional" policies.

Both the SAT and ACT are crucial in helping schools evaluate their applicants. Hence, when there is an influx of too many applicants, they assess students' college readiness and capabilities more than the school can accept. College entrance exams are one of the best ways of assisting a school's admissions team in enrolling qualified applicants. For example, colleges humanities or liberal arts colleges prefer applicants with higher verbal reasoning scores and lower mathematical aptitude scores. A school's physics college would also pursue students who have higher scientific and mathematical test scores and lower verbal reasoning scores.
Making the necessary preparations and passing the SAT/ACT is a completely challenging endeavor. However, if you are serious about your future academic and career aspirations, you should achieve good scores with these exams. If you can enhance your test scores after the first attempt, you can retake the exams with more preparation and confidence.
For many years, college entrance examinations have significantly changed. Many schools have concluded that applicants who perform well on these exams can succeed in higher learning. However, both the SAT and ACT are only primary indicators of students' capacity to thrive in college; thus, they cannot directly evaluate whether students will have the grit and passion for learning.