Short answer: yes!
Despite efforts to ensure that education is made accessible to all, many students still drop out of high school. There are numerous reasons why students dropout. Some need to leave high school to look for work to support themselves and their families, while others choose not to continue due to health reasons. While others, unfortunately, struggle to cope academically and do not receive the right support to succeed. Some do not dee the value of education that they choose not to enroll.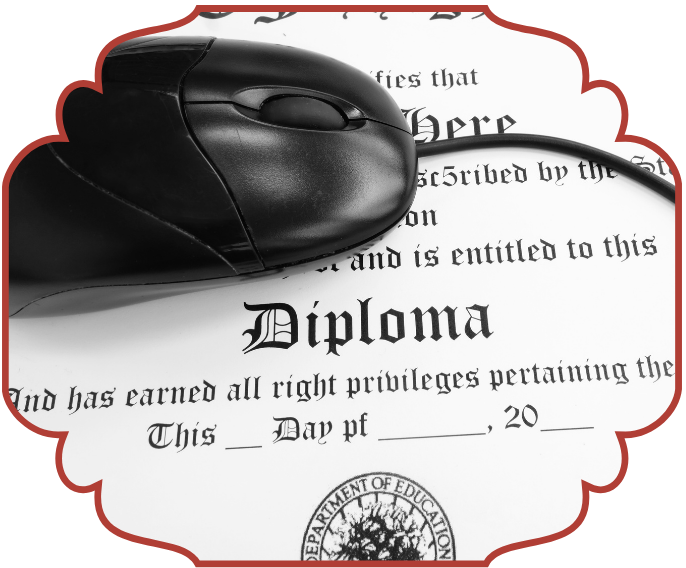 A 2018 study by the American Community Survey (ACS) showed 2.1 million status dropouts among students between 16 and 24. Overall, the percentage of the status dropout rate for that year was 5.3%. This means that 2.1 million young adults do not enroll or have not received a high school diploma or its equivalent.
Undoubtedly, high school dropouts are at a disadvantage. Data gathered by the Census Bureau's 2017 Current Population Survey (CPS) revealed adults who had not earned a high school diploma could expect to earn an average annual salary of $26,000. This is significantly lower than workers who have at least a high school education who earn $32,000 a year. In 2019, the unemployment rate among high school dropouts had reached 14.8%. This is in contrast to 14.6% of high school graduates who have found employment after graduation.
Online High School Diploma
Why you could not earn a high school education, traditionally or otherwise, is no longer important. What matters now is that you have the determination to earn an online high school diploma. Education knows no age. Whether you are just a few years late or maintaining a day job, you can now earn a high school diploma or equivalent.
GED, HiSet, TASC
You may think that passing the General Education Development (GED) test is enough to prepare you for long-term success. Yes, arguably, having passed the GED has its perks. After all, passing the GED certifies your academic skills at the high school level. This means that you will have the same job opportunities and receive the same average annual salary as those with a high school diploma. Indeed, it is an attractive alternative to earning a high school degree. But, the stigma towards GED passers persists, tagging it as an "easy way out." Should you choose to pursue higher education in a reputable college or university, you should avoid this, especially if you want a high-paying job in the future.
The notion that a high school equivalency test is easier than completing a high school degree is no longer true, particularly when changes in the administration of the exam were implemented. In fact, in 2013, out of the 816,213 test-takers, only 713,960 completed the GED test! Out of those who completed the exam, only 540,535 passed or 75.7% out of the examinees.
In 2014, a new high school equivalency tests were introduced: High School Equivalency Test (HiSET) and Test Assessing Secondary Completion (TASC). And in 2015, HiSet and TASC yielded a passing rate of 57.7% and 59.8%, respectively. However, the newly introduced alternatives are offered in select states and jurisdictions.
To find out if your state is offering HiSET, click here.
For TASC, click here.
Your Options
Now that you have decided to become a high school diploma holder, there are so many options for you to choose from:
Earning a high school diploma online is now easily accessible and time-efficient. There are many online options available in various states and school districts across the United States. However, it is your responsibility to thoroughly research the program that will suit best your current situation. This is a caveat to the proliferation of online scams that offer fake diplomas or diploma mills. These are bogus schools that offer diplomas for a fee. Look out for an online high school diploma mill!
Here is how to spot them:
Check if your school of choice is accredited by an agency recognized by the Council on Higher Education Accreditation or by the U.S. Department of Education.
If the school requires only your credit card details, chances are it is a diploma mill.
Does it say your diploma will be delivered to you in a month or less? There's reason to doubt!
Check the website for the faculty or school personnel listing. If you can't find any, you may be dealing with a bogus institution.
Multiple complaints have been filed against the institution.
Perhaps the most obvious sign: an online high school diploma mill asks for lump-sum payments.
Check whether your prospective online high school is a diploma mill. Click here for more information.
To check if your school is accredited by a recognized accrediting agency, check here.
Online High Schools Offering Diploma Programs
Enroll in accredited online high schools to earn your diploma! Here are some schools you can choose:
State-funded
K12-powered online high schools also offer free online high school diploma programs in the following institutions:
Lastly, Graduation Alliance, a state-funded program, aims to help students and adult learners earn a high school diploma. This is among the various initiative to aid the country's dropout recovery programs. In Graduation Alliance, state agencies are the ones that facilitate adult high school diploma programs. There is a cap in K-12 funding. Once adult learners reach the age of 21 or 22, they can no longer avail of the K-12 program of their state. This is where Graduation Alliance comes in. This initiative ensures that adult learners can earn a high school degree. Graduation Alliance says it is all about giving renewed hope to thousands of high school dropouts and adult learners across the nation.