Without question, online schools are time efficient. Assignments and school works can be completed anytime in the comfort of your own home with guidance from your parents. Gone are the days of rushing from to one class to another. There is no need, either, to set up a whole gym or laboratory before class and cleaning up after. And there is no need to print class activities and check them one by one. The time saved from these activities does add up in the long run. But are the study hours the same compared to brick and mortar schools?
One of the many advantages of online schools is that they will require less time from you compared to traditional schools. But then again, it is highly dependent on the online school that you or your child is enrolled in. On average, students spend four hours online. The is no definitive guideline as to how long online learners need to be logged in. Different states, school districts, and independent academic institutions have issued memoranda concerning students' schedules in the United States. These guidelines are specifically drafted to make every online school day to be both manageable and productive for everyone.
This brings us a drawback of this flexibility from online schools: students can be easily distracted.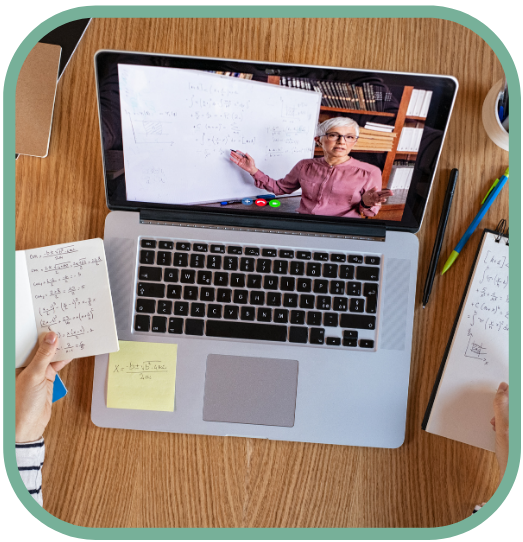 Remember when brick and mortar schools would disallow students to use their phones during class? Or talking to their classmates or passing notes during the exam. Because of the lack of a teacher's physical presence, it is easy for students to get sidetracked. How can students not use their phones when their setup would be a fully functioning computer? Video games and social media apps are within your reach during and after online school hours. Not to mention that messaging your classmates is easy even while your teacher is presenting. It is up to the parents or adults to discipline and monitor your child when it comes to this.
Parents play an all-important role in their kid's online school hours. Since you now have an opportunity to be present during your kid's online classes, take this as an opportunity to be more involved. Or an opportunity to guide your high schooler more into a better student.
Mealtime and sleeping patterns might be disrupted. Study breaks might be prolonged. It is without a doubt that a parent's part in making online schools work is crucial.
But with these different schedules offered by schools and different teaching methods, would that not affect students?
The answer is that it is highly dependent on the student. Some students will use this flexibility as an advantage. And some will find it difficult at first, but with the right attitude and guidance, anyone can and will learn under any schedule or study hours.
ONLINE SCHOOL DAY
To not overwhelm young learners, online schools set an appropriate instructional time for every age group. We all know that focusing too much can do more harm than good in the context of remote learning. Younger students must have a shorter attention span than adult learners, especially when they require parental involvement to complete a task. However, when they know how long they need to spend online, learning is more meaningful and productive.
In the Illinois school district, teachers have made an effort to keep online classes short. Specifically, teachers see that they only assign no more than 90 minutes of class work per day. This is true for younger students or those in elementary or middle school. High school students, on the other hand, get to spend 45 minutes per subject. This will roughly translate to 4 hours and 30 minutes per school day. If you are in Illinois, you can expect this class schedule.
Meanwhile, in Kansas, the state school board expects their K-1 distance learners to spend 45 minutes each day for school works. But for high school students, the state school board estimates that high schoolers can stay focused for at least 3 hours doing classwork.
Oklahoma and Oregon have more extensive guidance in terms of instructional time in online and remote learning. School boards in these states have provided study guidelines for each grade level for each subject, including math, reading, and arts and crafts. At the same time, other states have not issued any study guidelines.
Here are the basic guideline or guidance on the minimum and maximum daily learning for students in various states:
Illinois
Kindergarten – 90 minutes
Grade 1-2 – 90 minutes
Grade 3-5 – 120 minutes
Grade 6-8 – 180 minutes
Grade 9-12 – 270 minutes
Indiana
Kindergarten-Grade 1 – 45 minutes (minimum)
Grade 2-3 – 60 minutes (minimum)
Grade 4-5 – 90 minutes (minimum)
Grade 6-12 – 180 minutes (maximum)
Kansas
Kindergarten-Grade 1 – 45 minutes
Grade 2-3 – 60 minutes
Grade 4-5 – 90 minutes
Grade 6-12 – 180 minutes
Kindergarten-Grade 5 – less than 120 minutes, plus reading exercises
Grade 6-12 – 180 minutes
Pre-Kindergarten – 30 minutes
Kindergarten-Grade 1 – 45 minutes
Grade 2-3 – 60 minutes
Grade 4-5 – 90 minutes
Grade 6-12 – 180 minutes
Oklahoma
Kindergarten – 45 minutes
Grade 1-2 – 70 minutes
Grade 3-5 – 80 minutes
Grade 6-12 – 180 minutes
Oregon (these limits already include time for any other supplemental activities)
Kindergarten-Grade 1 – 45 minutes
Grade 2-3 – 60 minutes
Grade 4-5 – 90 minutes
Grade 6-12 – 180 minutes
Kindergarten – 90 minutes
Grade 1-2 – 90 minutes
Grade 3-5 – 120 minutes
Grade 9-12 – 180 minutes
SCHEDULING IN ONLINE SCHOOLS
Online schools have efficient methods to cater to different students that have different schedules. Some would hand out assignments to students that they can do at their own time. But compared to brick and mortar schools, online schools offer flexibility. If you have other commitments such as part-time jobs or family matters, some online schools offer recorded lessons or study materials so you could catch up. Some would even require to take the important exams, but it is, of course, given that you have studied them. Some offer different schedules so students could choose what is the most suitable arrangement depending on your situation.
WHY ONLINE SCHOOL SCHEDULE IS MORE RELAXED
Choosing one's schedule or study hours has its benefits. Students could do more productive things. They could finally have more time for their families or hobbies that they are passionate about. Some even take additional classes that would prove to be beneficial in the long run. As we have mentioned, some online schools would only require you to take the necessary exams while giving you the study materials. In this learning setup or remote learning, you are at liberty to study the whole term in advance and have a lot of free time. Also, different study hours and programs can be granted if you have issues with your online tools or internet connection.